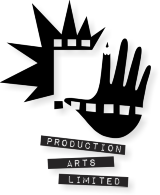 Storyboarding
Robb Bihun was born and raised in northern Ohio in an area called Catawba Island. His first comic work was the self-published "The Hoon"comic book in the mid 1990's.

In 2003 he worked with Chris Yambar on the comic "Edison's Frankenstein 1910."
Bihun is best known for his work as a storyboard artist. He has worked on films such as "The X-Files," "Lost in Space," "Buffy the Vampire Slayer," "The Ghost and the Darkness," "Inspector Gadget," "Blown Away," "Judgment Night," and "Moll Flanders."

He worked on commercials like the Jerry Seinfeld American Express spots, as well as TV spots for Ford, McDonalds, 7-UP, Pepsi, Dodge, Chevy, and AT&T.

Bihun has done music videos for artists like Dave Matthews, David Gray and Michael Jackson ("Black or White").

When asked to share his secret to success and longevity in the Hollywood movie industry — and on that front, his working relationship with Production Arts dates back to 1990! — Bihun simply says :
"I have a beautiful wife, Rebecca and two wonderful kids, Nathaniel and Adriana who keep my life blessed and interesting."
Copyright © 1994-2013 by Production Arts, Limited.